January – Jim and Sarge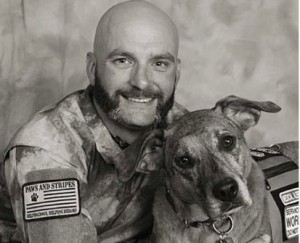 Sarge is a female Catahoula mix and service dog for Jim Stanek, a retired staff sergeant with the U.S. Army. Jim was an iron worker and volunteer firefighter living in Long Island, New York when 9-11 occurred. This devastating tragedy that happened so close to home inspired Jim to join the military, wanting do his part to serve his country. After completion of training, Jim was deployed to Iraq with the 82nd Airborne Division. This was to be the first of three deployments. His second was with Company F, 51st Long Range Surveillance Unit. During the third deployment with the Big Red One, he was sent home to be treated for injuries that led to his retirement. After 6 1/2 years in the Army, he found his career as a staff sergeant ending much sooner than he hoped.
During nine months of treatment at Brook Army Medical Center in San Antonio, Texas, Jim was treated for a multitude of injuries and chronic, severe PTSD and a traumatic brain injury. As his physical wounds started to heal, nothing worked to relieve his PTSD symptoms. But then Jim had an opportunity to spend time with one of their therapy dogs. This dog was the first "treatment" that brought him some relief. Among other things, Jim suffered from nightmares and had difficulty sleeping. His wife Lindsey noticed one day that Jim was able fall into an easy sleep curled up with this dog on a couch in a commons area at the hospital. She also noticed Jim laughed more and was able to actually relax in the company of therapy dogs. Lindsey began researching service dogs for veterans only to become discouraged by costs ranging from $10,000 to $60,000 and wait lists of three to five years.
While he was still at BAMC, Lindsey adopted a dog she felt was a good fit for Jim and named her Sarge. The couple moved to Albuquerque. Struggling with his PTSD symptoms, Jim began isolating himself at home in this new civilian life. As Lindsey said, "Without Sarge, his overall level of anxiety was extremely high. He was constantly at a ten, angry and stressed. If he couldn't get out of those states, he would end up in flashbacks, blackouts, or he would disassociate." But then they began noticing Sarge was trying to alert Jim to anxiety attacks, blackouts, etc. With the help of trainers they learned how to fine tune Sarge's skills so that she could help Jim manage his symptoms. Jim found the training process rewarding, relaxing and more effective than any medication or therapy session. His sleeping improved, nightmares were reduced and once again with Sarge as his "battle buddy" he began to manage his symptoms.
Anxious to help other veterans with the same challenges, Jim and Lindsey decided to establish Paws and Stripes, incorporating in June, 2010. The two trainers that originally assisted with Sarge, continued on as part of their team while they began helping other veterans that came to Paws and Stripes. Today they allow veterans to choose their own service dogs from pre-screened rescue dogs at local shelters at no cost to the veteran. Trainers assist each veteran with their unique needs in the six month training process. In our eyes Jim Stanek continues to be a hero every day. Jim is determined to assist his fellow veterans with PTSD, move on to a life worth living. And dogs like Sarge are helping to heal the invisible wounds of war. By the way, Jim Stanek was the inspiration for this calendar.
Thank you Jim for your service.
February – Ryan and Spirit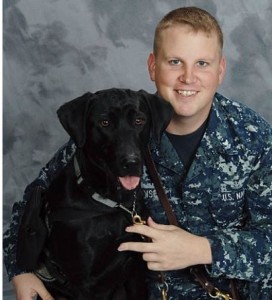 Spirit is a male black Lab and service dog for Ryan, a medically retired E5 in the U.S. Navy.
Ryan went into the Navy in August 2002 expecting to establish important life skills along with educational benefits. Boot camp at Great Lakes Naval Station in Illinois was followed by training at Pensacola, Florida as an aviation structural mechanic.
After eight years in Philadelphia, he was randomly chosen for duty at Guantanamo Bay. The extreme operational stress associated with this type of service today limits duty to no more than six months. However, when Ryan was assigned, no restrictions were in place and his duty lasted 13 months. The heavy toll was soon apparent after his reassignment to Florida.
In the past, Ryan was easy going and personable, but hard working. Now, he couldn't control his anger, had problems with superiors, often talking back. He dreaded sleep, having nightmares that would end in terrifying hallucinations; both seeing and hearing detainees of Guantanamo in his house. As a result, he was late for work, totally out of character for the young petty officer. Ryan tried to numb these symptoms with alcohol. Triggers for flashbacks were everywhere in public and because of that, Ryan would go to work and then straight home. He became an expert at ordering everything he needed online, isolating himself from the world.
A leave in Minnesota should have been an opportunity to enjoy family and friends. Instead, Ryan would stay behind at their home, afraid to go along on outings. He couldn't control his emotions and would cry at the drop of a hat. His family was overwhelmed and heartbroken with the drastic changes they saw.
Ryan returned to Florida feeling totally hopeless, later attempting suicide. Thankfully he survived and was evaluated and diagnosed with PTSD. Preferring alternatives to medication, he learned to use biofeedback. He had a wonderful psychologist that offered both one to one and group counseling. His therapist introduced his group to equine therapy and also introduced them to the dogs training at a service dog training facility in Florida that was close by. Ryan had an immediate and positive response to the dogs and said "I just felt completely at home" and started volunteering. Realizing the wonderful effect these dogs were having on him, he applied for a service dog. Their service dogs are mostly rescues, but not the dog assigned to Ryan. Spirit was raised by Meg Kuchar, mother of PGA golfer Matt Kuchar, as a gift to Florida service dog organization. And what a gift he turned out to be.
From day one Ryan said Spirit was "100% in tune with me", listening well to each command. On their second night of training, Ryan woke to find Spirit licking his face, and waking him from a nightmare. The three weeks of training were challenging. Along with the three veterans in his class, they learned to go into places otherwise avoided, like crowds, malls, restaurants and grocery stores. They faced all fears together, celebrating victories and bonding as they watched possibilities returning to their lives.
In the two weeks following graduation, Ryan found himself in public more than he had the entire past year. Today life is good. Ryan no longer dreads sleep. Nightmares are reduced to half as Spirit will wake him and assure him that the noises he still hears in the house are not real. Ryan and Spirit are overcoming all types of hurdles together, even enjoying an outdoor all day music festival and attending a crowded O.A.R. concert. That's real success!
Ryan returned to civilian life in 2013. With Spirit's help Ryan discovered that life was worth living again. He hopes someday to help provide service dogs for his fellow Veterans so they too can discover the magic of a four legged "battle buddy."
Thank you for your service Ryan.
March – Melissa and Chauncey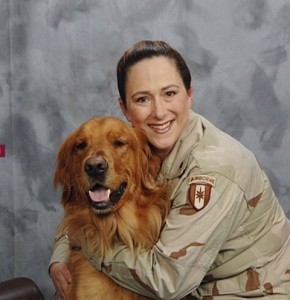 Chauncey is a golden retriever and service dog for Melissa, a former E4 of the U. S. Army. Melissa proudly followed generations of family members into the military. She entered basic training at Ft. Leonard Wood in 1992, received advanced training as a combat medic at Ft. Sam Houston and was later stationed at Ft. Bragg. After active duty she became part of the National Guard. Driving to a new job she heard the tragic news of 9/11 on her car radio. Giving notice to her new boss, she reenlisted, reporting to Ft Campbell, Kentucky in 2001. There she met Tom, the man that would later become her husband.
She was sent to Kuwait with the 86th Combat Support Hospital in 2003. Later her unit was sent on to Iraq. Through hospital doors came a constant flow of injuries- coalition and U.S. forces, prisoners of war and civilians of all ages. The sights, sounds and smells she experienced tending to these casualties would stay with her forever. Once home, she visited her family in Illinois, arriving on July 4th weekend. At a fireworks display, her mother watched as Melissa curled into a ball with the first burst as her flashback continued until the show ended. This start of her PTSD symptoms would be part of her life for the next ten years. Returning to Fort Campbell, Melissa started the medical discharge process due to asthma made worse in Iraq. Symptoms of PTSD, anxiety and nightmares, began as Melissa unsuccessfully tried to treat them using medication and counseling.
Tom returned from duty, they married and started a family. With Tom by her side, she managed her symptoms the best she could. Moving to Germany for a four year tour of duty, Tom's orders were changed to Iraq leaving Melissa alone in Germany for 2 separate deployments. Every day was a constant battle, managing severe anxiety while caring for young children.
Stateside again, the family moved to Memphis and Melissa's symptoms continued. She tried to work outside the home but developed a stutter due to increased anxieties. Unable to continue her job and be the kind of wife and mother she wanted to be Melissa looked online for help. She found a video of Jim Stanek (featured in January) discussing his service dog Sarge. Researching programs, she finally found an organization that listened to her needs and encouraged her to apply to their program. She was accepted and life took on new hope.
The first day of training she met Chauncey, a golden retriever, specially trained for her. Melissa was part of their first female class. They learned to access the community again visiting grocery stores, malls, restaurants and many public spaces. Chauncey's help brought confidence and amazingly after the first week her stuttering stopped . Feeling empowered, she and Chauncey returned to Memphis. Today Chauncey helps her face daily challenges and life is full of possibilities. Now, besides being the mother she always wanted to be, she is able to attend school. Her career goal is to help advocate for other veterans.
In 2002 Melissa was a patriotic young soldier wanting to serve her country. But service in a combat zone and a reported though unprosecuted MST incident led to severe PTSD symptoms. These symptoms compromised almost every aspect of her life for ten years. Today she has regained her life thanks to Chauncey, a wonderful battle buddy who won't let her down.
Thank you Melissa for your service.
April – Leander and Sierra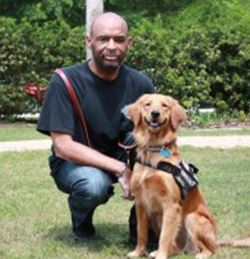 Sierra is a female golden retriever and service dog for Leander, medically retired from the U.S. Army. Leander was raised in Corpus Christi, Texas by grandparents who always encouraged him to strive for excellence. He carried this attribute throughout his life along with incredible resilience and a strong faith. Inspired by ROTC in high school he went directly into the Army in 1989, completing basic training and MP training at Ft. McClellan, Alabama. Assigned to duty in Washington DC, he worked closely with two presidents, including President Clinton. He later was transferred to San Antonio to work in drug enforcement before leaving the military in 1994. He reenlisted in 2002 because he felt something was "undone" regarding his military career. Shortly after joining, he fought an unexpected battle as he was diagnosed with leukemia. Fortunately, it went into remission after he finished chemotherapy.
Only months later, in August of 2004 he was deployed to Iraq. In February, 2005 his resilience was to be tested again as his Humvee ran over an IED. Leander suffered severe brain damage and leg injuries. He recovered at Walter Reed for a year and a half while being treated for a severe traumatic brain injury and undergoing 12 knee surgeries. But there were more challenges as he returned home to Texas. The former easy going, mild mannered Leander was gone and his wife struggled to understand the anger and difficulty he was having managing simple daily life. Going out into public was almost impossible and he became housebound unable to turn this challenge around. Eventually he found himself alone following a separation from his wife of 15 years.
Leander was finally diagnosed with PTSD in 2010. He noticed that he felt calmer and more in control of his moods when he was around the service dog of a fellow veteran. Hoping to regain his own life, he applied for a service dog, and was accepted. In March, 2012 he arrived in Florida to meet his dog and begin training. As soon as he stepped out of his car, a sweet small golden named Sierra, appeared to greet him. On the third night of training, she proved to be the right dog for him as she woke him up from a nightmare, punching the bottom of his feet with her nose until he woke up. Training involved many trips into the community and Sierra learned to clear space in crowds as she also watched his back. Sierra began alerting him to his stress by circling. During the three weeks of training, they began to understand each other's needs and signals.
Once back in Texas, Leander's confidence grew and so did the world around him. Sierra accompanies him to work at Delta Air Lines. His sleep improved and nightmares were greatly reduced as Sierra's presence allows him to fall asleep easier. Sierra became a true hero in April of 2012. As the two returned home from work, Leander felt a little "off" and more tired than usual. Sierra started barking at him and nothing he could say or do would make her stop. He reported her barking to a friend on the phone. Alarmed by Sierra's barking in the background she drove over to help. Deciding to trust Sierra's instincts they headed into the emergency room. To Leander's surprise, at age 42, the ER physician informed him he was having a heart attack. Amazingly before Leander even experienced symptoms, Sierra knew. Today, with Sierra at his side, Leander advocates for fellow vets, speaking where needed about the role service dogs are playing with PTSD and life has a renewed sense of purpose. These two, without a doubt, have rescued each other. What better ending could there
be?
Thank you Leander for your service.
May – Daisy and John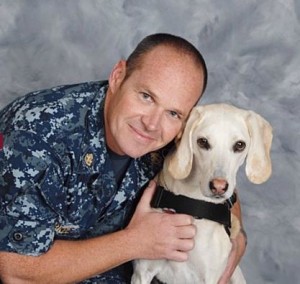 John's naval career began in 1994 at the Recruit Training Center in Orlando, FL. He met and married Christine in 1997. Over the next 13 years, they were stationed in Texas and Hawaii before returning to Florida in 2010. During this period their two boys were born. John was deployed all over the world but it was multiple tours in Afghanistan from 2006-2010 that ultimately changed his life.
In Afghanistan John was assigned to a reconnaissance squadron. He was a camera operator and as he explains it, he was "the eyes in the sky for boots on the ground". This exposure to killing enemy combatants, seeing U.S. forces WIA or KIA, and putting weapons on target accurately, carried a heavy psychological responsibility that later took a devastating toll on him. John was a target as well, often shot at by mortars, small arms fire and rockets.
Returning home in 2008 John started experiencing flashbacks. But while looking for treatment he was told that he had "emotional and anger issues" not PTSD.
In 2010 John was readying for yet another deployment when serious Florida wild fires started. Flashbacks of PTSD can be triggered by sights, sounds and smells. This smell of smoke triggered flashbacks as the fires continued for months. John had no control over these flashbacks making life unbearable and unpredictable. He started self-medicating with alcohol as his symptoms escalated – all totally out of character for John.
Needing help, John saw his flight surgeon which led to a diagnosis of PTSD and a prescription that, oddly enough, made everything much worse. As everything worsened, family life deteriorated, eventually leading to separation. Moving into a small apartment, John lived in isolation. During this period he started turning his life around as he sought the help of counselors and changed prescriptions. He connected with a naval friend also battling PTSD who had received a service dog from a local organization that trained service dogs. John visited their center and started enjoying volunteer work with the dogs. Recognizing how wonderful the dogs made him feel, he applied for their program.
Prior to their separation, the family had adopted a sweet dog named Daisy that bonded quickly to John. Daisy completed a four hour evaluation with their head trainer and was accepted for training as John's service dog. When their training together was complete, this bond became stronger as they learned to pick up on each other's cues. Daisy even allows John to use her as a pillow when he gets terrible migraines. Learning to manage his symptoms with Daisy's help, he was able to slowly repair relationships with his family.
After a four month period the family reunited. As John put it "Daisy not only helped me become human again, she saved my life."
Daisy is an extremely nurturing dog and knows when her presence is needed. John recalled Daisy's actions in a group counseling session, "A shipmate of mine was telling a traumatic story about a fire fight he was in while in Afghanstan and he started to leave us, drifting into his flashback. Daisy, lying at my feet, immediately jumped into his lap and started licking his face." John also finds others at work will stop by to see Daisy when they need her special stress relief.
When asked to sum up what Daisy means to him, John replied, "Having Daisy as a service dog has broken down all the walls of PTSD and built a bridge to a new life." Daisy is an amazing dog that not only saved John's life but brought a family back together. Well done Daisy!
Thank you John for your service.
June – Kevin and Bella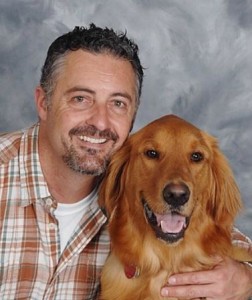 Bella is a golden retriever and service dog for Kevin, a retired SFC with the United States Army. Kevin joined the Army in 1988 with basics at Ft. Bragg and jump school at Ft. Benning. Part of the 82nd Airborne, his first experience with combat began in 1989 with the Panama Invasion, Just Cause. As he said, "I quickly learned an important lesson; the good guys don't always win. Many of my buddies didn't return from that deployment and the ones that did were no longer the same." In 1990 he was diagnosed with PTSD before his duty time was up in 1991. Kevin tried to deal with the symptoms of PTSD on his own without help. He constantly looked for that adrenalin rush, lived on the edge, often living dangerously. He met his wife Lisa in 1997 and as he put it, "Everything changed as she helped me get my life back on track." Kevin felt a calling to return to service following 9/11. He explains, "Soon I was in Iraq with a Long Range Surveillance Unit experiencing road-side bombs. Again I was reminded the good guys don't always win. Sometimes you can't stop the bleeding on your buddy, sometimes you're in the wrong place at the wrong time."
After numerous explosions and trips to Landstuhl Army Hospital in Germany, he returned from Iraq a different person. A person his wife and co-workers didn't understand. After his service ended, he joined the National Guard working as a Family Programs Assistant for military families while struggling daily with his own symptoms. After years of therapy for PTSD, he was offered the opportunity to attend a program that trains service dogs for veterans in October, 2012. He remembers meeting Bella; "Bella stood there looking at me, as if we were destined to meet and become life-long friends." Bella was surrendered by loving owners who were unable to control the playful nine month old around their 83 year old mother. During the intensive three week training, they were put in many environments that tested the warriors and dogs. With completion came a new sense of confidence. Bella's original owners came to their graduation and saw a proud, beautiful Bella all grown-up and behaving.
Once home, life improved dramatically. The first day, Bella showed Kevin how observant she was to his emotions. Frustrated with the computer, Bella came over and put her head on his lap. Today his sleeping is much improved as Bella helps keep nightmares at bay. He depends on her "ears" at night and being able to reach down over the bed to pet her eases his anxiety. Today Bella helps him in all types of situations. She forces him to interact with people in public as people are drawn to her, wanting to know her story. She helps with his anxiety in public places by helping him maneuver through crowds while watching his back. Bella attends class with him at Flagler College in St. Augustine and quickly gained popularity with the students. Noticing Bella's vest, other Vets there will share stories with Kevin, knowing he will listen and not judge.
Due to service injuries, Kevin is completed the medical retirement process. This involves many physical and psychiatric appointments. "During that process I had to relive many painful memories I have tried to forget. Bella attended the appointments with me, reminding me to have patience, and take deep breaths often." Kevin's duty to country started over twenty years ago. Today, Kevin's focus is directed to advocating for his fellow veterans. Kevin and Bella have both found new purpose for their lives. With Kevin's special insight, and Bella's nurturing ways and keen intuition, they should make an incredible team. It's easy to imagine the good they will do.
Thank you Kevin for your service.
July – Justin and Cody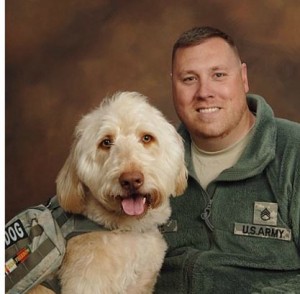 Cody is a Labradoodle and service dog for Justin, a retired E6 with the U.S. Army. For Justin, military life is a proud family tradition traceable back to the Revolutionary War. After college he married Marie, enlisted in 2001 and headed to Ft. Sill for basic training. Later he trained with the 101st Airborne at Ft. Campbell. He deployed to Iraq in 2003. Justin shared what arrival is like for a soldier: "The experience in Iraq is surreal. One day you're here in the U.S. and the next thing you know, you're in a 3rd world country, you turn around and you're getting shot at." From day one, the vigilance required to carry out missions and keep their unit safe was never ending. After one year, he returned to the U.S. assigned to Ft. Drum, home of the 10th Mountain Division. Unaware of PTSD Justin reports he felt different. The anger, anxiety, inability to sit still, nightmares, the need to be "on guard" and inability to relax were a constant state of being. This sudden shift back to life Stateside made the details of everyday life seem trivial and unimportant after experiencing matters of life and death.
In 2006 he deployed to Afghanistan. After a shorter period he returned home expecting to go to Officer Candidate School. Multiple surgeries on his knee and PTSD forced him into early retirement, never able to fulfill his dream of becoming an officer. Justin and Marie settled into civilian life and the first of two children was born. The sudden departure from the service he loved to inactivity heightened his symptoms. The social person who used to start conversations easily with anyone, now shut himself away from people. Trips outside his home were almost impossible. Marie helped him seek counseling for PTSD. While coping with everyday life, routine tests discovered thyroid cancer, requiring two surgeries and treatment.
Searching for answers to PTSD, Justin corresponded online with veterans who had service dogs. Hopeful, he applied to a Florida program. This program posted a request to transport a dog from his hometown to Florida and Justin volunteered. At the meeting spot, "Cody" walked up to him and as he bent over to shake the dog's paw, he was informed this was to be his future dog. This sweet dog was in tough shape when they met but Justin recalls they looked into each other's eyes and bonded immediately. Cody's rough life was now behind him. Months later, after good treatment and training, the two reunited for the three weeks of training.
As proud graduates they confidently returned home. Once home things started to improve. Justin's nightmares have reduced as Cody helps snap him out of night terrors safely. Justin has seizures from a past TBI and Cody alerts him before they begin. Both Cody's ability to warn for seizures and new legislation allowing compensation for Marie as a caregiver when needed, gives this couple added peace of mind. With Cody's help, Justin's anxiety both at home and in public is greatly reduced, making outings with his family now possible. Cody is an ice breaker and Justin once again enjoys talking with people they meet along the way. Justin recently reported that it felt great to hear his wife comment, "It's good to have you back." Life is complicated for this young family, but thanks to Cody's presence, things are much easier. Fun has returned to their lives and that's the way it should be. Justin reports some days are better than others but added, "that's the price we pay for the honor of serving".
Justin, our country thanks and honors you for your service.
August- Skip and Alex
Skip is a Labradoodle and the service dog for Alex, a former Specialist E4 of the U.S. Army. Alex enjoyed high school ROTC in Louisville and was a sophomore when 9-11 occurred. The impact of that day changed the direction of his life forever. Alex felt he "owed it to his country" to serve in order to assure our freedom. Alex joined the in 2003 at age 17 and between his junior and senior years he went to basic training at Ft. Leonard Wood, returning there after graduation for military police training. Within a week of finishing, he left for Iraq at age 18, the first of two deployments. Duty in Iraq centered around the town of Najaf. The ever present danger in a crowded city required the type of hyper vigilance often associated as a cause for PTSD. As gunners, Alex and the members of his unit had a responsibility to keep each other safe. Patrol was spent watching for a wire, a fresh mound of dirt, a garbage bag; all could be explosives. Civilians that looked nervous or even a child in an alley could be potential threats. This constant hyper vigilance to keep his buddies safe never stopped minute after minute, day after day, month after month.
Alex injured his shoulder requiring medivac to Germany. Eventually sent back to the U.S., he had surgery at Fort Knox followed by nine months of PT. Now serving in the Reserves , Alex completed an EMT course and started working for a city metro unit back home. In 2007 his Army unit readied for deployment to Honduras. Right before that day arrived, his orders were changed again. Because of his combat experience, he learned, Baghdad was his new destination. For the next year stressful duty continued in Baghdad, this time Alex's duty ended with injuries suffered during a roadside bomb.
Alex's service ended, but once back home his real battle was about to begin. Alex said he felt "dead inside" and struggled daily. He tried to resume his EMT job but had to quit. His Mother and a friend, trying desperately to help, took him to the VA for counseling. Alex tried roughly 20 different medications over time, yet nothing affected his overwhelming anxiety and anger. Fearful of leaving his home to go into public, he found help online. On Facebook, he met another Veteran with a service dog from a Florida service dog program. Having tried everything else, his counselor suggested he apply. Once accepted, he had five months to wait it out. Every day he thought about suicide, but Alex held onto hope that a service dog could be his answer.
Training time finally arrived and Alex met Skip who ,who had been abandoned at a gas station at the age of one. Earlier signs of abuse and neglect were seen but his rescuers noted his exceptional temperament, aptitude and eagerness to please. The trainer for the organization saw he had what it took and trained him for Alex. Alex said they definitely rescued each other. A new life began for them both at graduation and today they are becoming a "well meshed team". When asked what is the most important thing about Skip, Alex said, "He taught me to love again". Emotion is returning. Today, Alex's goal is to find a job that will be suitable for both of them and where Skip can be happy. Alex's confidence is back thanks to Skip and he is now able to manage the symptoms that once held him back. Alex is a great young man with an unstoppable work ethic, and will be an asset where ever he goes. Skip, of course, comes along as a wonderful workplace bonus. What a great team they will make!
Alex, thank you for your service.
September – Chris and Niko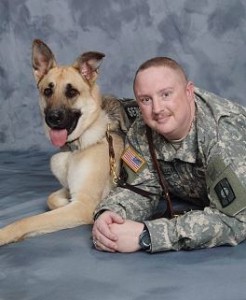 Niko is a male Shepherd and the service dog to Chris, who is a retired E5 with the US Army. Chris was born in Louisville, Kentucky to a family with a proud military history. Both grandfathers served during WWll and his great grandfather in WWl. So it wasn't surprising that Chris, active in high school ROTC headed into the army after graduation in 2000. Chris took basic training at Ft. Sill, Oklahoma and trained as an M.P. at Ft. Leonard Wood. Chris was deployed to Iraq in 2004 where, as he put it, "I saw a lot of combat and things I'll never forget". He returned home in 2006. Chris had never heard of PTSD but knew that something was "off" about the way he felt. He always felt like he was in a bad mood and anxious, going through his daily life in a fog, never quite knowing what was going on.
In 2008 he returned to Iraq and was injured by a roadside bomb. He was evacuated to Germany and then assigned to the wounded warrior platoon at Fort Gordon, GA. In the next year, Chris was not only diagnosed with PTSD but with thyroid cancer. While being treated for cancer, he started therapy for PTSD, working hard to deal with his symptoms. The following year, Ft. Gordon introduced therapy dogs as a new "tool" for PTSD. Chris went everyday to visit the dogs saying, "I started to feel something I hadn't felt in a long time- happiness". To help manage his life with PTSD, he applied for a service dog, receiving Peter, a black lab from an organization in New York. Thanks to Peter, joy was back in his life and best of all, he learned to go into public without anxiety and the fear of flashbacks. Peter allowed Chris to sleep well for the first time without the worry of nightmares. Chris said, "With Peter at my side I felt there was nothing I couldn't do".
In late 2010 Peter was hit by a car and Chris fell into a deep depression lasting a year. Again unable to leave his home and feeling "dead inside", he depended completely on his wife. Desperate to see change, she started looking for a dog for Chris through local rescue groups. Then a blessing named Niko came into Chris's life. Niko, an eight week old German Shepherd puppy had been rescued from a puppy mill. Chris said he felt something special at their first meeting. Chris said "It's hard to explain but our souls just seemed to connect". Familiar with service dogs, Chris found Niko eager to please, extremely quick to learn and seemed to be completely in tune with his needs. Chris said he felt like he was born again.
Chris found a service dog organization, applied and was accepted into their program. Speaking at length with their head trainer, they agreed to assess Niko when Chris came for training. When the time arrived, nine month old Niko passed with flying colors. During the three week training, Niko learned how to assist Chris and their bond deepened even more. Chris describes graduation day as "the best day of my life- I'm alive again." Today this loyal shepherd alerts Chris to seizures, guards against nightmares and helps Chris manage his anxiety. Once again he can leave his home without fear and can interact with the public. Chris was elected as a constable supporting their local sheriff's department and patrols with Niko at his side. Niko was rescued and spared from the horrors of life at a puppy mill. In return Niko helps Chris manage the symptoms that resulted from the horrors of combat. They truly rescued each other-mission accomplished!
Chris, Thank you for your service.
October -Terry and Jax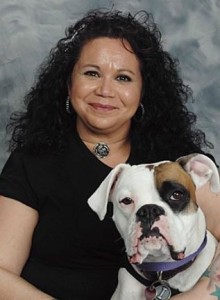 Terry grew up in El Paso and was in high school ROTC. Many of Terry's family members have served in the military and Terry was proud to be the first woman. Her dream was to go into a health field and looked forward to traveling during her service. After graduation in 1988 she went directly to basic training at Ft. Dix and trained as a medic at Ft. Sam Houston.
Things changed quickly in 1990 and her training was soon to be tested. She was deployed to Iraq at the start of Desert Storm. Terry served on the front line as a combat medic. Very often she was the only woman as she worked out of a M113 ambulance supporting the infantry. The stress and experiences of that duty would be felt for the rest of her life.
Once back in the U. S., she was stationed at Ft. Benning as a training NCO. When her service ended, she joined the National Guard and after moving to New Mexico she went into the reserves.
Civilian life was difficult as Terry experienced flashbacks, panic attaches and nightmares on a regular basis. Counseling helped early in her marriage and family life. While her children were small, she focused entirely on them, able to keep panic attacks at bay. But when they were school age, she started to experience symptoms at a much higher intensity.
One serious flashback trigger for Terry was thunder and lightning. Twice, while working at a local clinic, Terry had severe flashbacks during storms in front of patients and coworkers. Recovery from these episodes could take up to three hours. Feeling humiliated and embarrassed she finally had to quit. She began working at the VA Medical Center and felt much more comfortable among her fellow Veterans. Still fighting anxiety, her counselor was nearby if times got rough.
Terry would travel directly from work to home, never sure if she would be able to stop for anything in between. If she attempted grocery shopping, she might make it through the store only to find the check-out line overwhelming. Many times Terry had to leave a cart full of groceries and flee.
One day her counselor showed her an article in Time magazine about service dogs and PTSD. With new hope, she started researching programs and found Paws and Stripes in her own community. She was on their waiting list for one year and during that period she rescued Jax, a boxer found on the street. Jax passed the evaluation of their trainers, and the program started in 2011. During the six month training period, Terry's confidence increased as she and Jax began to work well as a team.
Today Terry is divorced, but with Jax by her side, she has gained the confidence to access her community in ways she couldn't before. In public, Jax alerts Terry to anxiety before she is aware of it and while she can still turn it around. Jax also gives her the space she needs in crowds by "blocking" and watches her back to avoid startles. At home Terry sleeps easier knowing Jax is close by and will wake her from nightmares. Terry reports that Jax has an amazing internal clock and routinely wakes her for medication. As Terry says, "Life is beginning to feel normal".
Over twenty years later, the brave young combat medic that tended to her fellow soldiers on the battlefield has found a way to move forward with her life. Finally the world is opening back up, thanks to a renewed sense of confidence from a four legged hero named Jax.
Terry, thanks for all you did for your country.
November – Nathan and Chance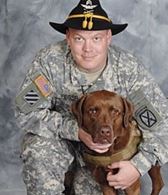 Chance is a brown Lab and service dog for Nathan a former Sergeant in the U.S. Army. Nathan was 19 years old when he left for basic training at Ft. Knox, Kentucky. Advanced training was at Ft Eustis and airborne training was at Ft. Benning. He became part of the 82nd Airborne Division at Ft. Bragg. In 2003 Nathan was injured seriously due to a parachute failure during a routine training exercise. This resulted in two surgeries, requiring two years of recovery and physical therapy. The accident and it's medical complications impacted the remainder of his military years, but Nathan was committed to continuing his service. Nathan was medically cleared and deployed to duty in South Korea in 2004. After only seven months, his kidneys began to fail. He was sent to Ft. Sam Houston for treatment and another two years of recovery. Nathan requested to stay in the service and was reassigned to Ft. Drum and the 10th Mountain Division.
In 2007 Nathan was sent to Baghdad as part of the "Surge". While there, Nathan had various duties. He was an aviation life support unit technician, an aircraft mechanic as well as a "door gunner". During that deployment he suffered from additional kidney related issues requiring hospitalization in Baghdad's "Green Zone". Needing further treatment, he was sent to Ft. Stewart , Georgia, undergoing five more surgeries with a recovery lasting 21 months. Finally medically cleared he was deployed to Jalalabad, Afghanistan. This deployment ended in an injury. He returned to his home in Florida and started the medical retirement process. During this time his severe PTSD challenged every day. He found himself going down a wrong path of drinking, fighting and acting out.
Nathan was anxious to find a solution and tried both medication and counseling with minimal success. A nurse told him about service dogs and a Google search led him to an organization not far from his home in Florida and he applied. When his training period arrived, he met Chance, a wonderful brown lab given up by a family that could no longer care for him. They bonded quickly and as Nathan put it, "Chance was a rescue dog without a home, and I was an injured soldier returning to a home I had not lived at in a decade." As training continued, they learned to trust each other and bonded. Chance's training was based more on mental and emotional help but he also learned to hold open a door for Nathan to walk through with a cane. Chance can also help Nathan up from a chair or the ground by offering support with the handles on his vest.
Nathan added, "Emotional help is where Chance really shines. He is my best friend, my partner, acting as a shield in a world that I clash with on a daily basis by helping me adjust and learn to interact with people again. Being a great icebreaker for conversation, he allows me to have a common bond with anybody that has dogs, likes dogs, or had a dog at one point. Forcing me to open up and talk, he takes the attention off me and bears it on himself." With Chance by his side Nathan is now a full time student in Florida. His goal is a masters degree in geography, hoping to join the Florida Fish and Game Department with a career outdoors both he and Chance can enjoy. He and Jenny have just had their first child and he is enjoying his newest role- that of father. If the courage and perseverance Nathan demonstrated during his years of service are any indication, he will succeed in anything he chooses.
Nathan thank you for your service.
December – Tony and Fitz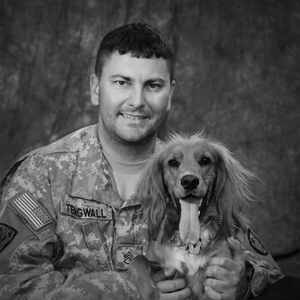 In the spring of 2012 Tony and his service dog Fitz welcomed home the National Guard Red Bulls at Camp Shelby, Mississippi, ready to help in their transition from soldiers to civilians before returning home.
But back in December, 2005 Tony himself was a National Guard Sergeant returning from Iraq. Trying tosettle back into civilian life, he worked a job while finishing his degree in Communication Art and Design. He was plagued by many of the same issues facing other Veterans returning home. Tony explains it this way, "Things that were a big deal to people back home, meant little to me. If it wasn't a life or death situation, I just kind of shrugged it off." This led to hurt feelings and damaged relationships. He had some anger issues, depression and while living alone, he would sometimes go into a defensive shell.
In 2009 Tony became employed by the VA and today he works with the Higher Education Veterans Program helping other Vets with PTSD understand their education benefits and the transition from military to school. Tony lived in a small community and had the opportunity to spend time with the family of his County Veteran Service Officer, Lauri. Lauri and her husband often take in rescue dogs and bring them back to health so they can be adopted. Lauri could see the difference in Tony's body language when he was around her dogs. Her daughter, Christine is a dog trainer with the special skills required to train service dogs for veterans. Christine noticed a very special chemistry between Tony and Fitz, an English Cocker Spaniel that had just come into their home as a foster.
Realizing that Tony would benefit greatly from a service dog, Christine started a training program for Fitz, specifically with Tony's needs and symptoms in mind. There was some additional training for Fitz and Tony together before the partnership could be complete. Finally on Valentine's Day 2012, Fitz was able to start his life with Tony.
Things started to improve dramatically for Tony with Fitz at his side. No longer alone, Fitz is always there when Tony starts to struggle with his PTSD symptoms. "He can read me. I notice the way he's acting and can tell by that when I'm about to take a turn for the worse. Fitz has the ability to sense my moods and tips me off to them before I realize them on my own".
Tony travels constantly all over the state and driving is one of his main stressors when it comes to PTSD. "When I start getting stressed out and my road rage starts showing up, Fitz will poke my shoulder with his nose from the back seat, which tells me I need to work on controlling myself." Another benefit is having Fitz by his side while meeting with Vets at work. Tony reports, "Fitz has a calming effect on them. I haven't had anyone get angry in my office since he has been around. He sits by them and they pet him while we're working on claims, and things remain calm".
Tony admits that companionship is probably the most important thing. He says, "Since the first day Fitz and I have been together, he's the first thing I see every morning when I wake up. He sleeps on the end of the bed and comes up in the morning to greet me. I haven't had a bad start to a day since." He adds, "I'm excited to be one on the first Veterans in our state to have a psychiatric service dog, because I have the opportunity to educate other Veterans and the public on their use and benefits."
Thanks to a caring, generous family assisting in the rescue community, two lives now have new meaning. Fitz is a wonderful example of the extraordinary healing and bond dogs can offer. In the eyes of one Vet especially, this remarkable "tool" to manage PTSD is without a doubt "man's best friend".
Thank you Tony for your service.