About the Artist

I graduated from Kendal College of Art and Design in Michigan and moved to Minnesota with my wife, Lynn, where we reside today. We have three grown kids and a six year old Cairn terrier, Maddie.
My first position as an illustrator was in the art department of Webb Publishing in St. Paul, Minnesota.  For most of my 35 years in the commercial art world in the St. Paul/Minneapolis area, I had my own business as an art director and illustrator. I  enjoyed these creative years working with Pillsbury, General Mills, Land O Lakes, 3M, and a host of other great companies in Minnesota.
Rescue Dog Art & Classic Pet Paintings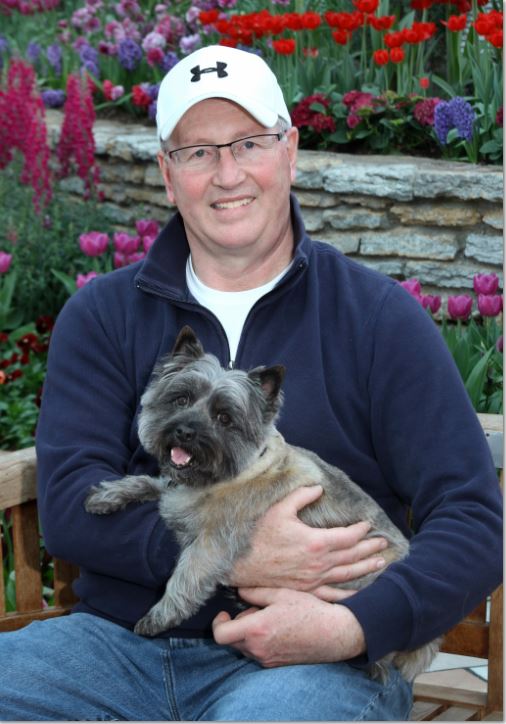 In 2009 while looking to add a dog back into our lives, we met Lucy the rescued therapy dog that belonged to our friend Gwen and this very special golden retriever became my first subject.  I really enjoyed the challenge of capturing her personality and was hooked. At the same time in our search for a dog, we were made aware of the huge struggles going on in the rescue world following the recession.
Lucy and Gwen had a great rescue story and really enjoyed volunteering with children at their local library as a therapy team.  Lucy's life was the inspiration of our first calendar. In addition to Lucy we quickly were able to find 11 other rescued dogs that were therapy dogs and they became the participants and subjects of the 2012 Calendar "Rescue Dog to Therapy Dog".  Our hope for that calendar was to show the great dogs available through rescue.  It was interesting to see all the types of volunteer work they did in their communities.  People all over wrote to us asking that we use their rescued therapy dogs and 2013's Calendar "Rescued Heroes" followed. It featured 11 therapy dogs and one very special service dog Fitz who belonged to Tony a Veteran with PTSD.
To find out more about the history of our very special veterans calendars, go to our Calendar page.
Watch our Rescue Dog Art Facebook Page for more information regarding our next "Rescued Heroes- Veterans Edition" Calendar.
About the Site
If you would like me to create a custom artwork of your dog, you can learn how to set one up in the Commissions page, and check out some of my past works in the Gallery, to get an idea of how I can capture your dog in art.
To find out about our current Calendar project, and its beginnings, feel free to browse through the Rescue Dog Art pages. When calendars are available for purchase, click HERE.   Rescue Dog Art products can also be purchased at our Etsy store. Just go to www.etsy.com/shop/rescuedogart.
Lastly, don't forget to stay updated on the latest happenings of Rescue Dog Art on our Blog, which will include links to information from our partners as well as information on upcoming events. And feel free to Contact us about anything, we'd love to hear from you!